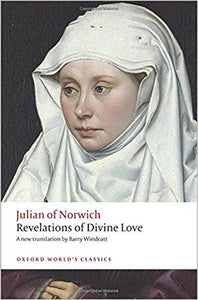 For joint events organised by the Friends of Julian of Norwich, this is their preferred version.
Revelations of Divine Love is a medieval book of Christian mystical devotions. It was written by an anchoress called Dame Julian, now known as Julian of Norwich, about whom almost nothing is known. The book is remarkable for being the earliest surviving example of a book in the English language to have been written by a woman.
Julian, who lived all her life in the English city of Norwich, wrote about the sixteen mystical visions or "shewings" she received in 1373, when she was thirty. Seriously ill, and on her deathbed, the visions appeared to her over a period of several hours in one night, with a final revelation occurring the following night. After making a full recovery she then wrote an account of each vision.